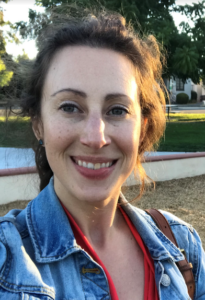 Title: "The Pharmacy of Genes: Drug Development for Genetic Diseases" with Natalie Ciaccio Ph.D. of Biomarin
Date, Time, Location: Wednesday, October 3rd, 2018; 7:30 – 8:30 pm at Terra Linda HS in San Rafael, Room 207
NEW Watch Dr. Ciaccio's presentation in VR below!

Bio: Dr. Ciaccio is a Sr. Scientist working in Formulation Development at BioMarin Pharmaceutical, Inc. in Novato, Ca. Prior to joining BioMarin, Dr. Ciaccio completed her Postdoctoral training in the Department of Bioengineering and Therapeutic Sciences at the University of California San Francisco, where she explored the application of drug delivery technologies for sustained release of biologics. Previously, Dr. Ciaccio obtained her PhD in Pharmaceutical Chemistry from the University of Kansas, where she investigated mechanisms of protein degradation and aggregation. She obtained her BS in Pharmacy from Purdue University and spent three years working in Quality Control at Eli Lilly and Co., supporting insulin manufacturing prior to attending graduate school.
Watch Dr. Ciaccio's presentation in Virtual Reality (VR) below! Use your keyboard arrows or click and drag to visit the Marin Science Seminar classroom.
The Pharmacy Of Genes from Marin Science Seminar on Vimeo.   Video by MSS intern Satvik Namburu
Links:
Join us and learn! – Back to the Marin Science Seminar calendar